International Partners
We are currently partnering with two organizations in Peru and our software
is used by therapists in China.
The Wheelchair Project (51-1) 254-9710
The Wheelchair Project, founded in 1997, provides seating, mobility and therapy services to children with disabilities in Lima Peru and the surrounding area. They train local therapists to provide seating and mobility services and partner with local organizations serving people with disabilities including hospitals and universities.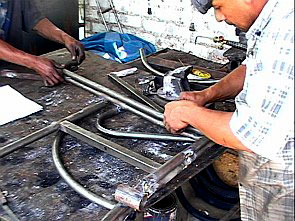 Rumbos, Caminos, Una Esperanza (A Path, a Way, A Hope) (51-1) 295-0040
Rumbos, Caminos, Una Esperanza was founded by Jose Abanto, a local wheelchair builder with 18 years experience building wheelchairs. Through his private wheelchair company, Jose has extensive experience building wheelchairs for The Wheelchair Project. Jose has also taught local wheelchair builders in Nicaragua to use our software to build custom wheelchairs with special seating system.